Come on In!
There will be some work done on Hunt Street this week as the water lines are laid for the housing co-op being built next door, but we are still open! Come on in and align with us! See our full schedule →
Prenatal Bliss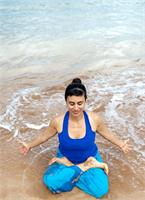 Pregnancy is a powerful time for mother and baby to enjoy the benefits of the ancient practices of yoga and Ayurveda. Join Sommer Sobin and Olynda Smith to learn ways to modify and adapt physically, spiritually, and mentally through the three trimesters. Saturday, May 25, 2:00–4:00 p.m.; $45/$40 before May 18. Details →
The Heat Is On & Heat and Heart
As we move toward summer, Patty Adams offers two special events, using Ayurveda and yoga to prepare us for summer's bounty.
The Heat Is On: Ayurveda to Ease Your Transition to Summer, Saturday, June 1, 1:00–3:30 p.m. Details →
Heat and Heart: Warrior Camp, Monday–Friday, June 10–14, 7:00–8:30 a.m. Details →
Free Class Previews
These new additions to our schedule are free in their first week! All free classes are filled first-come, first-situated, with no online signup: just come on in!
June 3: Pilates with Anna, 12:30–1:30 p.m.; Flow with Lexy, 3:30–5:00 p.m.
June 4: Flow with Lexy, 9:30–11:00 a.m.
June 7: Gentle Yoga with Laura, 9:30–11:00 a.m.
Yoga for Athletic Recovery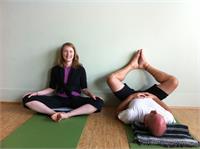 Jump-start your recovery to take your game to the next level in this special offering for athletes of all sports and levels. Learn postworkout routines for strength, flexibility, and injury prevention, then segue into restorative poses to enhance your recovery, preparing you for your next fun workout. With Jeff Brown and Sage Rountree, Sundays, June 23–July 14, 12:30–1:45 p.m. $50 for 4 weeks or $15 per session. Details →
Intro to Yoga
Our ongoing Intro to Yoga classes begin every other month. Meanwhile, you are invited to drop in to any intro class for only $15. Mondays with Mike, 5:30–6:45 p.m., or Wednesdays with Olynda, 5:30–6:45 p.m. Details →
Yoga Teacher Training
Together with our sister studio, Carrboro Yoga, we are pleased to offer a 200-hour and a new 500-hour Yoga Alliance–approved yoga teacher training. Deepen your understanding of yoga and its role in your life and learn to teach authentically in the 200-hour program, or hone your teaching skills and delve into advanced studies in our 500-hour program, which features a core curriculum led by Olynda Smith. Details →